Open source eCommerce Shopping solution industry is growing nowadays. If you want to start your own eCommerce business then there are several options to choose from. This is the list of some open source and free eCommerce platform from which you can get idea which you want to use. Each application is designed and developed targeting specific group of customers and products. It is wise to understand fully about the eCommerce solutions before you decide.
1. Magento
Magento is a feature-rich eCommerce platform built on open-source technology that provides online merchants with unprecedented flexibility and control over the look, content and functionality of their eCommerce store. Magento's intuitive administration interface features powerful marketing, search engine optimization and catalog-management tools to give merchants the power to create sites that are tailored to their unique business needs.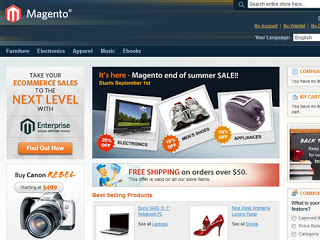 2. OpenCart
OpenCart is an open source PHP-based online shopping cart system. A robust e-commerce solution for Internet merchants with the ability to create their own online business and participate in e-commerce at a minimal cost. OpenCart is a turn-key ready "out of the box" shopping cart solution. You simply install, select your template, add products and you're ready to start accepting orders.
3. OSCommerce
OSCommerce is an online shop e-commerce solution that offers a wide range of out-of-the-box features that allows online stores to be setup fairly quickly with ease, and is available for free as an Open Source based solution. Today, osCommerce has been taken to the next level, moving towards an e-commerce framework solution that not only remains easy to setup and maintain, but also making it easier for store administrators to present their stores to their customers with their own unique requirements.
4. Prestashop
Prestashop is an award winning e-commerce solution having won the Best Open Source Business Application. Having been distributed under the open source license, Prestashop now powers thousands and thousands of online stores across the globe. It is also backed by an active community of developers who frequently develop various add-ons for extending the functionalities of Prestashop.
5. Ubercart
Ubercart is an open source e-commerce shopping cart that fully integrates your online store with Drupal, the leading open source content management system. This is a killer combination for anyone looking to build a community around a product, sell access to premium content, offer paid file downloads, and much much more.
6. ZenCart
ZenCart truly is the art of e-commerce; free, user-friendly, open source shopping cart software. The ecommerce web site design program is being developed by a group of like-minded shop owners, programmers, designers, and consultants that think ecommerce web design could be and should be done differently. ZenCart offers great support and tutorials and has extensive documentation to help you at every stage.
7. TomatoCart
TomatoCart is a next generation open source shopping cart, branched from osCommerce 3 as a separate project. The TomatoCart administration site is completely rewritten based on Ext JS which is a cross-browser JavaScript library for building Rich Internet Applications. It includes many high-performance and customizable UI widgets to simplify work with web applications. The web desktop application allows users to keep several windows open simultaneously, enabling users to work with several modules such as products, customers and orders at the same time.
8. Zeus Cart
Zeus Cart is an incredibly stable & richly-interfaced, open source shopping cart and it's a simple E-commerce software package which allows, even a non-technical person to open an online store on the Internet, with minimal efforts. ZeusCart is a web-based PHP/My SQL shopping cart which is simple, powerful and easy to use. Zeus Cart includes a number of marketing-tailored features that can help you increase your online sales, promote repeat purchases, and boost customer satisfaction.
9. Spree Commerce
Spree Commerce is a 100% open source e-commerce platform powered by the popular Ruby on Rails framework. It was designed to make customization and upgrades as simple as possible. Spree has a large community of developers throughout the world and is one of the most popular open source projects.
10. AbanteCart
AbanteCart is a free PHP based eCommerce solution for merchants to provide ability creating online business and sell products online quick and efficient. AbanteCart application is built and supported by experienced enthusiasts that are passionate about their work and contribution to rapidly evolving eCommerce industry. AbanteCart is more than just a shopping cart, it is rapidly growing eCommerce platform with many benefits