Lots of social networking applications are available there which may be free or commercial. Talking about social networking Facebook is at top but sometime we may need self hosted business networking site. So open source social networking has become more and more popular nowadays. Here is a list of 6 best open source social networking applications which you can download free, customize and user as per your requirement.
6 Best Open Source Social Networking Scripts [Facebook clone scripts]
1. Elgg
Elgg is an award-winning open source social networking engine that provides a robust framework on which to build all kinds of social environments, from a campus wide social network for your university, school or college or an internal collaborative platform for your organization through to a brand-building communications tool for your company and its clients. Elgg is a nice social network script written in php and mysql with login option with facebook and twitter. Wirebox feature lets its users to shout whats on their mind, just like facebook and his friends get updated. It was awarded with 'best open source CMS award' in 2007.
Elgg operates on a LAMP (Linux, Apache, MySql and Php) environment and it is easy to install and configure. With a little php knowledge, you can get your social networking site up and running in no time.
Features:
Powerful Data Model : Elgg provides a powerful data model making the creation of different entities simple, yet flexible.
Activity Streams : The granular activity stream API ensures your plugins can push the required content to your users.
Plugin API : Use Elgg's powerful plugin API to build and add your required features.
User Management : Elgg handles your user management and relationship requirements.
Access controls : All objects in Elgg can have an access control level applied making granular access permissions possible.
Web Services API : Expose functionality through the REST API by building a plugin and then either publish the API for other developers to build clients or provide your own.
Home : Elgg
Download : Download Elgg
2. Oxwall
Oxwall is unbelievably flexible and easy to use PHP/MySQL social networking software platform. Its flexibility is an extremely easy way to change the way it works using Oxwall plugins. These plugins are complete units of functionality that can be used for various purposes. It take special care about core and plugins compatibility so any updates are easy like a breeze. Oxwall offers unseen level of efficiency when you need a full-featured, working site. Oxwall is used for a wide range of projects starting from family sites and custom social networks to collaboration tools and enterprise community solutions.
Home : Oxwall
Demo : Oxwall Demo
Download : Download Oxwall
Plugins & Themes : Oxwall Plugins and themes
3. BuddyPress
BuddyPress is an open source social networking software package. It is a plugin that can be installed on WordPress to transform it into a social network platform. BuddyPress is designed to allow schools, companies, sports teams, or any other niche community to start their own social network or communication tool. BuddyPress inherits and extends upon the integral functional elements of the WordPress engine including themes, plugins, and widgets. As it is built on WordPress it is written using the same primary technologies, PHP and MySQL.
Features:
BuddyPress has a range of features that will allow the creation of a social network application. However, based on your interest you can start with couple of features and simply turn off rest features that you don't want by a click of a button. The basic installed system offers:
Activity Streams
User Profiles : Options to add user profile fields and sections; Avatar uploads
Group Creation : Group discussion forums; Group logo and Wire
Friend system : Messaging
Custom themes
Blogs per user (via the WordPress engine)
Home : Buddypress
Download : Download Buddypress
4. Mahara
Mahara is an open source e-portfolio system with a flexible display framework written in PHP. Mahara, meaning 'think' or 'thought' in Te Reo Māori, is user centred environment with a permissions framework that enables different views of an e-portfolio to be easily managed. Mahara also features a weblog, resume builder and social networking system, connecting users and creating online learner communities. Mahara is Linkedin clone script for career social networking. It has all the aspects to build a portfolio based website for members for career based social networking. Mahara content management system provides users with blogs, a resume builder, a file manager and a view creator – a tool to help users create arrangements of their content in a particular way for others to see.
Features:
File Repository
Blogs
Social Networking
Resume Builder
Profile Information
Administration : Themes, languages, session, authentication
Interface with Moodle
Scalability
Security
Interoperability
Home : Mahara
Demo : Mahara Demo
Download : Download Mahara
5. Xoops with Yogurt extension
XOOPS is an extensible CMS that allows you to build sites based on your needs. It is a web application platform written in PHP for the MySQL database. You can first start off as a personal blog and expand later to include social networking, forum and much more via the use of appropriate modules. Its object orientation makes it an ideal tool for developing small or large community websites, intra company and corporate portals, weblogs and much more.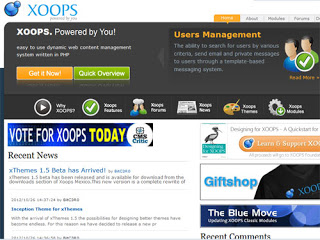 Yogurt is the particular module that allows you to build a social networking site with XOOPS. You can setup your personal album of pictures, videos from YouTube, mp3 files, add your list of friends, a public wall for messages (scraps), to create communities (tribes) and many more useful features. XOOPS and Yogurt are based on php and work well in the LAMP environment.
Home : XOOPS, Yogurt
Download : Download XOOPS, Download Yogurt
6. LOVDbyLess
LovdbyLess is a free open source social network platform built with Ruby on Rails. Lovd by Less offers you social networking solution that has everything you need to build your community. Some features of Lovd by Less include blogs, photo gallery with captions, site search for friends, activity update and user-to-user messaging. Other things that are built into the software include Flickr and YouTube integration. One thing good about Lovd by Less is that it is easy to use and contains most of the applications that you need. For those who prefer Ruby on Rail rather than php, this would be a good alternative.
Features:
Follow a user, mutual following is friending.
User-to-User Messaging
Profile Comments
User Blogs with Comments
Photo Gallery with Captions
Site Search for Friends
Profile Bio and Information
User Dashboard (Recent Activity of Friends)
Emailed Activity
Flickr Integration
YouTube Integration
Home : Lovd by Less
Demo : Lovd by Less Demo
Download : Download Lovd by Less