1. Coppermine
Coppermine is a multi-purpose fully-featured and integrated web picture gallery script written in PHP using GD or ImageMagick as image library with a MySQL backend. Coppermine is free software which you can download and install on your webspace.
Some special features:
arrangement of pictures in categories and albums;
picture information stored in database;
users can upload pictures with web interface or ftp (and admin can batch-add to database);
full multimedia support
creation of thumbnails and intermediate size pics;
search feature; last added;
random picture;
user management (private galleries, groups);
integration of user management with various bbs (like phpBB, YaBB SE, SMF, Invisionboard, vbulletin);
caption, title, description and user defined fields for each picture (searchable);
easy install (installer provided);
multilingual;
user comments;
e-card feature;
slideshow viewer;
all features customizable with web interface (admin section);
template system;
user membership in multiple groups;
upload approval notice for admin;
EXIF/IPTC support;
language selection option in template;
image rotation; multi-pic upload; and many more
2. GALLERY- Your Photos on Your Website
Gallery is an open source web based photo album organizer. Gallery gives you an intuitive way to blend photo management seamlessly into your own website whether you're running a small personal site or a large community site. Serving millions worldwide, the Gallery project is the most widely used system of its kind.
In place editing of images and metadata
Store metadata in files
Add multiple users to groups
Improved contextual help display
Administration dashboard
Album display modes (thumbnails, lists, slideshow)
Drag and drop images
Drag and drop watermark placement
Image area annotation
Image zoom
Batch edit
Simple blogging
Set metadata fields as required/optional
Editable feature labels
3. TinyWebGallery
TinyWebGallery is a free PHP photo album / gallery that is very easy to install, extremely user friendly, does not need a database (uses XML files) but still has all the features you should expect and much more.
AJAX + Flash navigation with sliding image thumbnails
XML based – no database needed
TWG Admin to upload/manage images, manage
users, Color Manager, Configuration of TWG …
Keyboard navigation (arrow keys)
3 different slideshow types
Protected galleries
Text and image watermarks
Full video support
TWG Flash uploader
Frontend in 29, backend in 5 languages!
Fullscreen mode
Remote picture support
All features can be enabled/disabled/configured
And a lot of things that makes this photo gallery unique.
4. Piwigo
Piwigo is photo gallery software for the web, built by an active community of users and developers. It is written in PHP and requires a MySQL database. Extensions make Piwigo easily customizable. Piwigo offers a wide set of features for any photo gallery. Icing on the cake, Piwigo is free and opensource.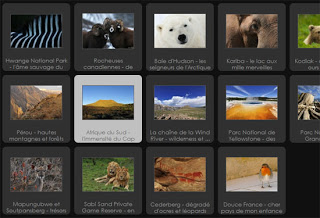 Add Photos : with a web form, with an FTP client software, with digiKam, Shotwell, Lightroom, iPhoto (Mac users), Aperture (Mac users) or mobile applications for iPhone/iPad and Android
Multiple size : each photo is availabe in 9 sizes, from XXS to XXL, for improved compatibility with various screen resolutions (from smartphones to HDTVs)
Watermark : Piwigo can automatically add a watermark on all photos, to protect photos against unwanted copy.
Albums : Each image is bound to one or more albums. Albums are hierarchical and there is no limit in depth.
Tags : An administrator describes photos with tags, then visitors can browse photos by tags or multiple related tags, for example "night + Paris + John".
Calendar :Extracted from EXIF metadata, Piwigo knows the date of each photo and is able to display photos for a given day, month or year.
Themes : The appearance of the photo gallery is defined by the theme. There are various themes provided by the project community.
Plugins : Plugins expand capabilities of Piwigo. Example of plugins: YouTube, Vimeo, Dailymotion, Google Maps or displaying photos in a Lightbox.
Access control : Access control is handled by the user manager, restricting and granting varying levels of access to photos and albums.
Notification system : Users can be alerted of changes and updates through RSS feeds, E-mail or sharing on social networks Twitter, Facebook or Google+.
5. Pixelpost
Pixelpost is an open-source, standards-compliant, multi-lingual, fully extensible photoblog application for the web. Anyone who has web-space that meets the requirements can download and use Pixelpost for free. Pixelpost can run on just about any web server in the world. It requires PHP ( GD library ) and MySQL. There is a great range of templates and addons available to extend the basic features already included.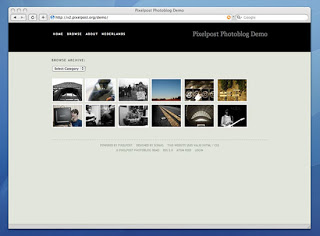 Smooth Install Assistant : Users who are upgrading will appreciate the new super-smooth upgrade system as well.
Fancy Admin Stuff : Lots of little tweaks that are sure to make your life better.
New Tags for Image and Browse Page : New features that will make the template system even easier to use.
New Defensio Addon : A brand new spam filtering web service which comes as Pixelpost default addon now, it can be used instead of Akismet.
Cool Feed Options : Setup your feeds to fit your needs.
New Languages : For our friends all over the world!
Brand New Front Workspaces : Addon creators are going to love us for this.
6. Zenphoto
Zenphoto is an answer to lots of calls for an online gallery solution that just makes sense. After years of bloated software that does everything and your dishes, Zenphoto just shows your photos, simply. It's got all the functionality and features you need, and nothing you don't.
Upload via backend
Multiple upload
Slideshow
Comments
Front end editing
Watermark
Password protection
CMS Management
Several media formats; Image, Audio, Video and Other filetypes
Multi-lingual
Theming/Templates
SEO friendly
Gallery Statistics
Search
7. phpAlbum
phpAlbum.net is an Open Source PHP script which allows you to create your personal Photo Album / Gallery in just a seconds. All you need is a web space hosting with FTP access. No database is needed. After a few clicks with our phpAlubm.net Installer you are ready to upload your photos, create new directories /galleries, and use your photo album.
Automatic generation of thumbnails and resized
Commenting of pictures with antispam security code
E-Card – you can send e-cards to your friends and family
Screenshots for files to be downloaded, movie, audio, exe or whatever
Password protection for your private galleries
Admin section for creating new directories, uploading photos,Uploading ZIP Files preserving directory structure.
Short and long description of galleries/directories and photos
Highly customizable layout, separated layout(HTML) from functional code, this allows easy creation of new themes
Caching of all generated thumbnails and resized photos
Transparent logo and icon processing with any background color, including IE6
Access logging, with exclude strings
8. Shutter – photo gallery software
Shutter allows you to store and share your photos in an unlimited number of albums with ease of control. Shutter is free to download. It requires PHP (with GD support) and MySQL. Shutter comes with many additional features including album slideshow, multiple photo upload, progress bar when uploading, automatically export EXIF information on upload and click-and-drag photos and albums into a new order.
Simple Web Based Installation : Once the files have been upload with the correct permissions, the installation is easily managed online.
Web Based Configuration : Edit several settings including the name of your website and whether you would like search engines to index your website.
Unlimited Photo Albums : Create as many photo albums as you wish.
RSS Feeds : LIve RSS feeds for all photo albums and tags.
Upload Multiple Photos : Upload several photos at a time to an album with "progress" bar.
Automatic EXIF Import : All available EXIF information is exported from the photo and shared.
Album Cover : Select one of your photos to be the cover of the album.
Drag 'n' Drop Photos and Albums : Simply click and drag photos and albums to re-order their position.
Photo Tags : Group photo's with specific words to create custom sets of photos.
Slideshow : Automatically play through all photo's in an album (includes play/pause, next/previous links).
Guest Comments : Visitors can leave comments on your photos. These must be authorised before being published.
9. PLOGGER – open source web photo gallery
Plogger is the next generation in open-source photo gallery systems. A web application not bloated with superfluous features or complicated configuration settings. Plogger is a simple yet powerful tool everything you need to share your images with the world. Plogger is your photos integrated into your website, a fully featured photo sharing package with an attractive and easy to use administrative interface that makes managing your galleries a breeze.
Easy Install and Setup
Easy Gallery Creation
Build your Own Themes
Plogger XML Service
Better International Support
AJAX inline-editing
Include from Anywhere
Upload Zip Files
Liquid Galleries
Automatic Thumbnail Generation
EXIF auto-extract
XHTML W3C Compliant
Mass Downloading
User Feedback
Cruft Free URL's
File System Based Organization
Selectable Thumbnails
Improved Importing
RSS support
Remote Access
Integrated JavaScript Slideshow
International Character Code Support
10. PHP Photo Gallery
PHP Photo Gallery is a free script for your photo album. It requires PHP with GD support and MySQL. This is simple yet very useful photo gallery script you can find. It is loaded with lots of features you may want in gallery.
Unlimited albums, sub-albums and photos
Picture comments and ratings
Multi-image uploader
Online photo editor (rotate, crop, darken, lighten, blur, emboss)
EXIF/IPTC extraction (optional)
Watermarking with image or text(optional)
Integrated SEO module (for good search engine rankings)
Integrated Javascript slideshow module
Caching of all generated thumbnails and resized pictures (browser and server side)
Hotlinking prevention (optional)
Template driven(code is separated from design)
Automatic generation of thumbnails and intermediate photos (sizes setable via admin)
AJAX flash uploader
Multi-file uploader
Show latest, favorite, top and random photos
RSS/XML feeds(optional)
Integrated search engine (user and admin)
Meta and gallery description (optional)
Easily move and/or edit albums, photos
Set albums and/or subalbums per row
Set photos per page
Order photos/albums by date added, date shot, weight number, alphabetically
Set latest/favorite/top photos per page
Statistics (number of photos, photo/album views)
Encrypted database passwords
AJAX powered control panel
Sql injection and xss built-in protection
Visual Confirmation to prevent spamming(optional)
Contact us page with optional visual confirmation(captcha)
Simple and easy admin management
Compatible with Internet Explorer, Safari, Firefox, Opera
Active support forum
Compatible with PHP 5 and PHP 4, MySQL 4 and MySQL 5
Easy installation
11. 4images – Image Gallery Management System
4images is as a web based PHP and MySQL for displaying images on the Internet. 4images can be configured through an administration area. 4images supports apart from the typical image formats like JPG, GIF and PNG, other data formats. Furthermore 4images includes a template system to modify the design of the gallery. An external language file allows for easy translation into other languages.
manage images and videos
upload through browser, through admin panel or via FTP (Batchupload)
automatic thumbnail generation
automatic image resizing
showing IPTC and EXIF data of images
protection against hotlinking
extensive, password protected adminstration are to configure and control the whole gallery system
database backup function
multi language support
unlimited categories and subcategories
comment system
extensive permission management for users and usergroups
upload function for registered users
easy to customizable layout via templates to fit the own web layout
easy to customize e-cards (colors, font)