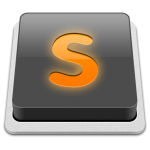 Sublime Text is the most popular text / source code editor widely used in programming. Although it is a proprietary software, there are lots of free and community build plugins which can be used to extend the feature of Sublime Text. If you are not already fallen in love with Sublime Text, they you must give try.
Gist is a simple way to share snippets and pastes with others. This is one awesome service provided by GitHub. It allows you to store code snippets for later use, you can have as many private gists as you need and you can group multiple gist files under a single gist.
If you frequently use Gist then there is a Sublime Text plugin which helps you to use it easy way. You can manually install this Sublime Text plugin from this Gist github repository.Or you can install it through Package Manager.
Generate Access Token
You will need Access Token for using Gist in Sublime text.
Open up GitHub site.
Go to Account Settings -> Applications
Click "Generate new token" under "Personal access tokens"
Enter some meaningful name in "Token description"
Under "Select scopes", select gist
Setting up in Sublime Text
Open Sublime Text
Go to Preferences -> Package Settings -> Gist -> Settings – User
You will have to do some configuration before you can use it. In 'token', you will be to put access token you just generated. In 'include_users', put your github ID
Here is a sample settings.